PastaLess Lasagna- oh MY!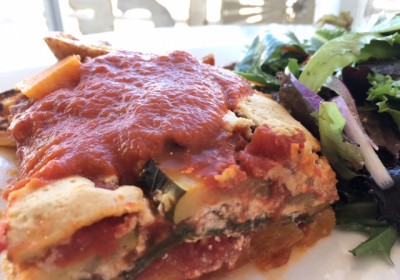 How far will you travel for vegan food? Delicious vegan food, wonderful hospitality and cozy ambiance – every time! I'm writing today.. finally, and that's due to the happiness this vegan cafe brings to me all year round. The Garden Cafe, Woodstock, New York. I guess you could also say it's the furthest so far I have driven for vegan food. I'm a Brooklyn girl so it's about 100 miles to Woodstock. Maybe it's just the urge to get in touch with my inner hippie self. I love hanging out in Woodstock on Sunday afternoons. I love the warm greetings I get from Lea and the staff here. It's pretty much guaranteed that I will stop in to say hello as I come by for any of my "go-to" favorites: like the tofu mango sandwich in the summer and the corn bread and miso vegetable soup in the winter. Generally, I get the Garden Bowl– for me I feel it's the healthiest entree no matter where I go. It's like a Macro Bowl with brown rice or quinoa, a protein like tofu or tempeh, plus seaweed or sauerkraut – sometimes beans and definitely a green like kale. However, I broke today and ordered the pastaless lasagna. I have had it a couple times before. Outstanding! I actually set out to make this over Christmas but it was an epic fail lol. What I made could have been called pastaless vegan casserole or soup even. I'm no chef.
This time though I wanted to know more about how they did it – to see if maybe I could get it together for the next holiday party. So ok– it's about the butternut squash bottom layer. Not sure how they do it but it's more firm and set to hold the rest of the lasagna. There is zucchini and spinach too. The clincher though is the cashew ricotta. Wow that really makes it in combination with the butternut squash and delicate layering. (So I just asked. It's baked with the butternut squash not pre-cooked first. Wow. I can't do this right. I will just have to come here every week. They also said they alternate the veggies too depending what is in season — oh and the fresh basil. Also, the cashew ricotta has tofu in it too. That I would love to make — hello recipe please!)
I just had to have it one more time today — for blogging purposes haha. Yeah that is what happened. As a vegan blogger I felt it was my responsibility to eat everything just because it was vegan. Guess what though? More and more .. everything can be veganized so now I will just have to relinquish that responsibility. Poor me! Either that or switch to vegan addict or vegan fatty because that's where it's headed. Not headed.. Truth be told, I am already there!
So yeah I'm a food addict of sorts. I have actually said that bunches of times before. "Pastaholic" has been mentioned too which brings me back to this lasagna. It has no pasta in it. No white carbs hello!!! But I still treated it as such.. a tiny bit. I saw my addictive ways as I wanted to save some for later but was having difficulty.
How do I know I'm still an addict? Oh idk. Perhaps it's that I still do the "cut it in half thing" – I'll only eat half.. and save the rest. Then what happens… another sliver and another. But I did it. I managed to save close to half to eat later. I asked for a small box and inserted the pastaless lasagna into it with the precision of a heart surgeon as I didn't want the layering to budge from it's perfection haha that's actually when I knew. But hey, baby steps. I don't dare try that with regular pasta because I will not ever be able to save it for later out of habit; actually that is why it is removed from my eating. Besides, the pastaless version is so much better.. decadent, eloquent and savory not to mention healthier! No comparison. Progress for me yay!!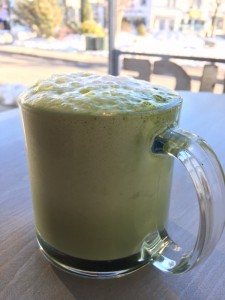 I also like to come by for my green tea match lattes. They have four or more nut milks. Today I cozied up with the cheerful vibe going, soft latin music playing in the background (my favorite), a beautiful view of the snowy drum circle area, cute white wood fixtures and finishings. It was a wonderful late afternoon.
I'm so looking forward to spring and the outside garden being open. Sadie my pup loves to come with me here too!
Please follow and like us: