Friends Or Tacos?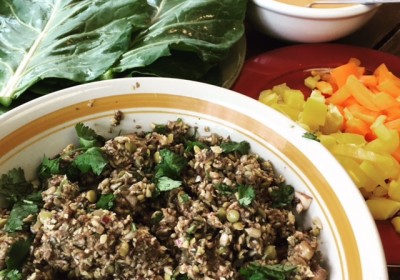 Ever drive your friends crazy with the latest foodie idea, diet, meal plan or weight goal? I do – all the time. I don't actually know how I even have any friends left. This time it was day 3 of Raw til' 4. My friends were willing and excited (I think) to do a vegetarian weekend upstate. "Vegetarian".. I'll take what I can get ya know. Well, one friend was a veg and the other a serious carnivore ?. So we attack Pinterest. Or at least I did. I might add that my friend wanted to lose weight. No carbs. Ugh doesn't that drive a vegan crazy. We live off carbs not flesh but whatever. I start sending them pics. Of course, I naturally go to whatever my goal of the moment is; so now I'm pulling up only raw vegan recipes. I sent photos and they took the bait. A picture is worth a thousand words or at least a win towards surviving vegan and maybe even raw vegan for the weekend with these two. They choose "Raw Lentil Tacos" and Cauliflower Rice With Peanut Sauce. One blog at a time. My eyes opened wide! First, the Raw Lentil Tacos definitely sounded healthy and different than what I normally make. Second, I have been wanting to make Cauliflower Rice for a while now. I have no idea how to make these or how they will taste.. or more importantly, how they will like them. I guess more like if! Raw Lentil Tacos it is! We scramble for ingredients pretty much at convenience and price point. Walmart – really? This spoiled brat vegan doesn't buy her food there hahaha but I love Walmart so maybe I will start even though I shouldn't because they are the 1/10 of 1 percent fighting the minimum wage increase for their people. That's another blog. Anyway, Walmart did have most of what we needed but still had to grab key items like apple cider vinegar, nutritional yeast, raw sunflower seeds and a green wrap – we used collards.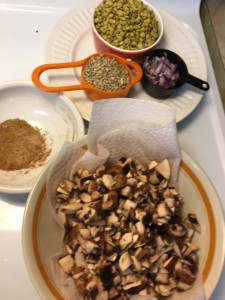 I was nervous. I could do raw lentils and mushrooms but not sure these two would. The pressure was on. Raw should not take long. That's my motto. But you do have to prep. Follow the real recipe from Nouveau Raw for best results! Below is what we did.
SOAK. I soaked the lentils over night. Dumped the water, rinsed them and let them dry for hours until dinner time. It's best to let them sprout but we didn't have time.
The "meat" – yes I said meat. Carnivores don't won that word. lol We used 1 cup lentils, 1/2 cup raw sunflower seeds (better if you can soak and dehydrate them but we didn't), 2 cups portabella mushrooms, 1/4 cup onion, 1ish tablespoon of taco seasoning (make your own).
The filling – 1 red bell pepper, 1 yellow bell pepper (please buy organic as these are on the top of the pesticide residue list if conventional), 1 avocado, 1 package of nice flat organic collards.
4. The sauce – oh the sauce! Insanely amazing! 1/2 cup water, 1/2 cup red bell pepper, 1 tablespoon raw apple cider vinegar, 1 cup cashews soaked and drained, 2 tablespoon nutritional yeast, 1/2 teaspoon cumin, 1/2 teaspoon sea salt, 1/2 teaspoon pepper, 1/2 teaspoon chipotle powder (we used cayenne and paprika), and 1/4 teaspoon chili powder. Save that sauce recipe for future use!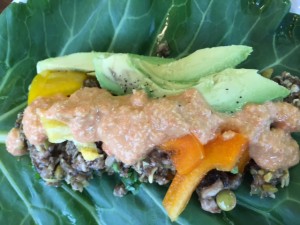 Done! I had to have the first bite. I needed to know if it was good before they commented. They might now like it because it's raw. I needed to know if it taste good RAW. This recipe did not disappoint. It was actually super delicious and completely filling. The sauce was on point. I ate these for two days. My friend later went home and he scale said minus two. Score. I win.
Friend number 2 the veg – I compromise and let's make cauliflower rice. Been meaning to make it for a while now. We didn't quite get it because of my inexperience with the ninja. What I needed for the first recipe I just found and so over blended the rice. Needed that relief for the cashew smoothie. Oh well. Love and learn. The cauliflower mixture was so tasty that we think it's the start to an incredible vegan stuffing for thanksgiving. With breadcrumbs and all. The raw version – very good. I ate it like a raw salad. Mission complete.
Please follow and like us: